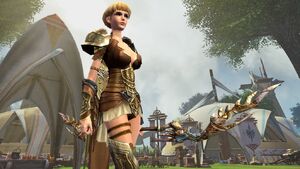 <Description>
Play style
Edit
With the ranged attacks, light armor and the high mobility, rangers should keep their distance to all of the enemies which they will encounter. The main attributes of a ranger are still unknown, so only until closed beta will be launched we can update those here.
Progression
Edit
The two different progressions for a ranger are to maximize its mobility or the damage dealt from ranged attacks.
Ranger uses bows and gunblades as their weapons and light armor to protect themselfs.
Gameplay video of Ranger skills:
Edit
Community content is available under
CC-BY-SA
unless otherwise noted.